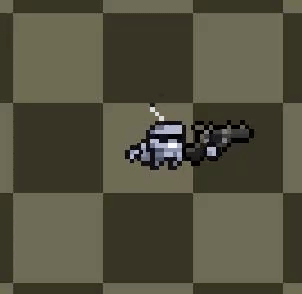 Gun Knight 2 is now in development!
Thank you!
First of all, I just want to thank everyone for all the nice comments and for taking the time out of your day to play something that I made. I've read all of the hundreds of comments and they always make my big dumb grin get BIG and EXCITED for the future. People have messaged me privately with their builds, sent kind regards, reached out to collaborate and even drawn fanart! So yeah. THANK YOU. <3
---
Gun Knight 2 details:
"Gun Knight 2" (possibly called Gun Machine) is going to take place in the future, where you play as a gang of hackers who have beef with a huge evil robot corporation. Each hacker will have a different passive and active ability, but all of them will start off by taking over the simplest robot and making their way up the corporation, blasting baddies, slaying bosses, stacking items, getting buffed, swapping attachments and even their robot's limbs! Things are still extremely early, I want the game to have animated gun parts, much more 'progression', a final boss, more unique combinations, actually WIDESCREEN, etc.
The game will be uploaded on Newgrounds, Itch.io and Gamejolt at certain development milestones - but once the development hits about 60%, those uploaded builds will be marked as 'demo' versions and the final release will HOPEFULLY be my first Steam release; where I can finally start seeing some profit from all this game dev GRIND. That's still a bit far away, but it's fun to think about the future. To keep up with the game, I'd recommend following me on Twitter! But I won't judge you if you don't. It's okay boo, I love you. <3
---
IN OTHER NEWS
With the release of Madness: Off-Color, I've been gaining traction extremely fast (considering my relatively short time actually submitting to the website) This is the most attention I've gotten on any website, so I just want to share an equal amount of praise for all of the people who have been saying really nice stuff about it. All of us are going to take a bit of a break from the project so we can regain our steam, but we want to add a character creator, some bug fixes and fun cheat codes to the game when we get back onto it. Be sure to check out the profiles of those who also worked on Madness: Off Color!
Framboot (Lead Artist) : Twitter | Newgrounds | Instagram
ArtOfEliza (Additional Art) : Twitter | Newgrounds | Instagram
Scribble (Sound Design) : Twitter | Newgrounds
---
As a final note, check out this awesome fanart by PhasmaGore: